Video Conferencing Services
TKO offers a range of services to assist business, government and educational organizations with video conference network management. Our services include: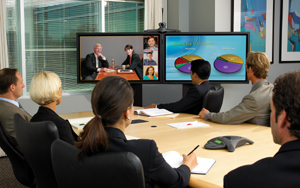 Equipment Selection and Installation
TKO is an authorized reseller of Cisco/Tandberg, Polycom, LifeSize, and Sony equipment and other brands of video conferencing equipment. Installation and training is available from TKO.
Outsource Staffing Services
Skilled staffing support for a day, week, month or full-time is available from TKO for your video communications network. Our staff can be your backup team or your full time onsite technical specialists, managing your video conferencing, audio conferencing, streaming and satellite networks.
Maintenance Services
we maintain an inventory of spare equipment
service plans are available ranging from same day service to telephone support
our testing facility can troubleshoot and repair equipment
Urgent Services/Helpdesk Services
TKO offers immediate dispatch and help desk services. Our Urgent Service Team offers a range of technical assistance from telephone help for small issues to immediate onsite assistance.
You may also be interested in learning more about:
Event Management Services
When all systems must work for a major event, TKO manages the entire production. From monitoring all network, lighting and video systems to broadcasting your video and audio signal through satellites and over the Internet, TKO offers the complete suite of professional services to produce your event.
Testing Services
TKO maintains a testing laboratory capable of launching over 100,000 test events per hour. We test new products and evaluate the condition of systems that are in service. Our benchmark testing services allow you to see how your systems compare to manufacturer specifications under varying degrees of load.
Training Services
Technical training for telecommunications, video communications and ISDN are offered from TKO's headquarters facilities in San Jose, California. Each training track consists of modules that can be taken in one-day increments or linked over several days. Our training can be conducted at customer locations upon request.

Video conferencing is a technology that enables people, your most valuable resource, to contribute their talents in two or more places at once.

TKO Video Communications
TKO provides software and equipment (Cisco/Tandberg, Polycom, LifeSize, and Sony), outsourcing services, and technical support for local, national and worldwide video conferencing networks. We distinguish ourselves from all vendors in the video communications industry by providing high quality video conference outsourcing, video solutions and products with unparalleled attention to our client's objectives.