Tandberg 1000 - Specifications
The Tandberg 1000 equipment includes wireless remote control, built-in camera, microphone, speakers, cables, 12.1" LCD screen, table-top stand and optional wall mount bracket. The 1000 is perfect for executive offices and small meeting rooms.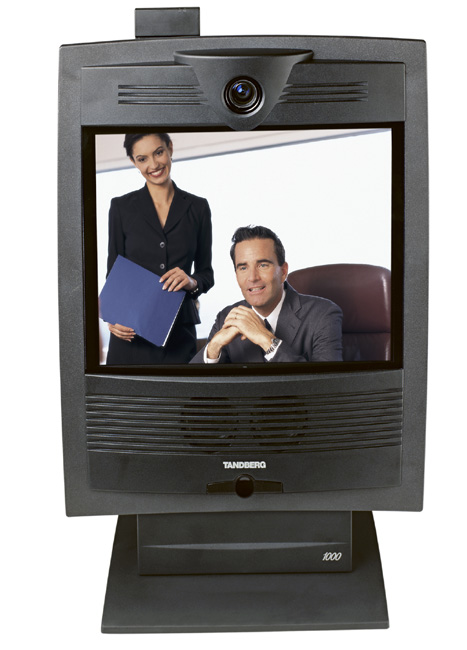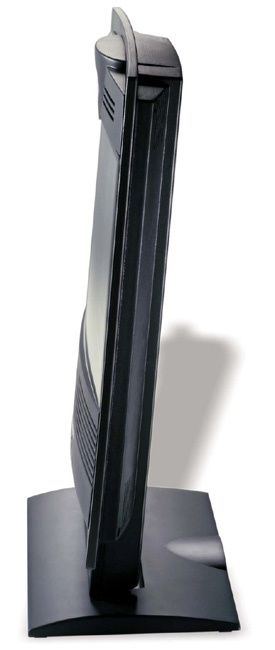 Bandwidth
H.320 up to 384 kbps
H.323 up to 768 kbps
LCD Screen
Wide view angle screen
SVGA resolution
Auto or manual brightness
Video Standards
H.261, H.263, H.263+, H.263++, H.264 (Natural VideoTF*)
Video Features of the Tandberg 1000
Picture in Picture (PIP)
Intelligent Video ManagementTF*
Video Inputs (1 input)
Built-in main camera
1 x RCA/Phono, composite: document camera/auxiliary
1 x XGA: PC using VNC (PC SoftPresenterTF)
Video Format
NTSC, PAL, VGA, SVGA or XGA
Tandberg 880 Live Video Resolution
Native NTSC
4SIF (704 x 480 pixels), Digital ClarityTF
SIF (352 x 240 pixels)
Native PAL:
4CIF (704 x 576 pixels), Digital ClarityTF
CIF (352 x 288 pixels)
QCIF (176 x 144 pixels)
SQCIF (128 x 96 pixels) decode only
Native PC Resolutions:
XGA (1024 x 768 pixels)
SVGA (800 x 600 pixels)
VGA (640 x 480 pixels)
Still Image Transfer
CIF, SIF, 4CIF (H.261 Annex D), 4 SIF, VGA, SVGA, XGA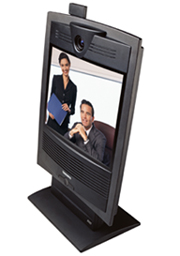 Audio Features
Automatic noise reduction
Acoustic echo cancellers
Audio mixer
Automatic gain control
Audio Standards
G.711, G.722, G.722.1, G.728
Privacy Feature
Headset, 2.5 mm mini jack
Tandberg 1000 Video Conferencing Frame Rates
15 frames per second @ 56 - 128 kbps
30 frames per second @ 168 - 768 kbps
Network Features
Auto H.320/H.323 dialing
DownspeedingTF
Programmable network profiles
Intelligent Call ManagementTF
Maximum call length timer
Automatic SPID and line number configuration (National ISDN, GR-2941-CORE)
SoftMuxTF
H.323 Video Conferencing Network Features
Differentiated Services (DiffServ)
Resource Reservation Protocol (RSVP)
IP precedence
IP type of service (ToS)
Network Address Translation (NAT) Support
IP adaptive bandwidth management (including flow control)
Auto gatekeeper discovery
Dynamic playout and lipsync buffering
Intelligent Packet Loss RecoveryTF (IPLRTF)
Embedded Encryption
H.320 and H.323 point-to-point video conferencing calls
Standards-based: H.233, H.234, H.235, DES and AES
Automatic key generation and exchange
Security Features for the Tandberg 1000
IP Password
Menu Password
Access code
Streaming password
H.243 MCU password
VNC password
SNMP security alert
Encrypted HTTP password
Possibility to disable IP services
Network Interfaces
3 x ISDN BRI (RJ-45), S-interface
1 x LAN/Ethernet (RJ-45) 10/100 Mbit (LAN/DSL/cable modem)
1 x PC card slot (PCMCIA) for wireless LAN
Wireless LAN Support
Compliant with IEEE 802.11b, up to 11 Mbit
Support for 64/128 bit encryption (WEP)
Infrastructure or ad-hoc mode
Ethernet/Internet/Intranet/Connectivity
TCP/IP, DHCP, ARP, FTP, Telnet, HTTP
SNMP Enterprise Management
Internal web server
Internal streaming server (streams local and far-end site)
Wired 10/100 Mbit full/half duplex (manual or auto detect selection)
Wireless up to 11 Mbit (auto detect selection)
Other Major ITU Standards Supported
H.320, H.323, H.281, BONDING (ISO 13871), H.231, H.243, H.235, H.233, H234
You may also be interested in learning more about:
Tandberg 1000 Camera
1.7 x zoom
1/3" CCD
+5°/-20° tilt (mechanical)
47° vertical field of view
65° horizontal field of view
450 (PAL)/460 (NTSC) horizontal TV lines
Min. illumination 0.5 Lux (F1.4)
Manual focus
Auto or manual brightness and white balance
Far end camera control
15 near and far-end camera pre-sets
Closed Captioning/Text Chat
Video Conferencing Presentations and Collaboration
Tandberg 1000 presenter package including:
PC SoftPresenterTF
Digital ClarityTF
T. 120 Microsoft NetMeeting support via RS-232 (9-pin D-sub)
Streaming (compatible with Cisco IP/TV, Apple QuickTime, RealPlayer v8 etc.)
System Management
Support for the Tandberg Management Suite Software
Total management via embedded web server, SNMP, Telnet and FTP
Remote software upload: during a call over all networks, via webserver or via FTP server
1 x RS-232 for local software upgrades, local control and diagnostics
Remote control and menu system
Directory Services
400 number global directory
100 number local directory
Customized Boot Up Logo (JPEG)
Power
Auto-sensing power supply
100 - 250V AC, 50 - 60 Hz
40 watts max.
10 Languages (selectable menu)
Chinese, English, French, German, Italian, Japanese, Norwegian, Portuguese, Spanish and Swedish
Tandberg 1000 Physical Dimensions
Width: 11.8"/30.0cm
Height: 17.7"/45.0cm
Depth: 2.6"/6.6cm
Weight: 9.0lbs/4.1kg
*TF indicates Tandberg First
TKO Video Communications
TKO also provides satellite broadcasting, audio conferencing, streaming video and audio as well as telecommunications and video conference training.