Polycom iPower 9000 Codec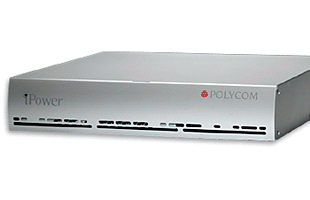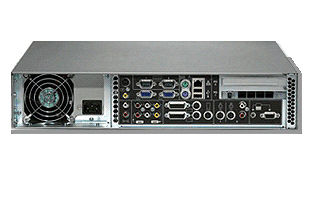 Specifications
ITU-T H.320 and H.323 compliant
Video
H.261, H.263, H.263+, H.263++, H.264
Audio
14 kHz with Siren 14
7 kHz with PT716plus, PT724, G.722.1, G.722
3.4 kHz with G.711, G.723.1, G.728, G.729
Integrated Dynamic Echo Cancellation (IDEC™)
Automatic Gain Control (AGC)
Automatic Noise Suppression (ANS)
Data
T.120, Integrated Microsoft NetMeeting
H.281 far-end camera control for H.320
Annex Q far-end camera control for H.323
H.243 multipoint
9000 Codec Content Video Resolution
PC input
XGA (1024x768)
SVGA (800x600)
VGA (640x480)
S-Video or composite inputs
4CIF (704 x 576 pixels), NTSC, CIF (352 x 288 pixels)
People Video Resolution
CIF (352 x 288 pixels)
QCIF (176 x 144 pixels)
30 fps at 256 Kbps and above
Pro-Motion™ interlaced video (352 x 480 pixels) at 336 Kbps and above
NTSC/4 (352 x 240 pixels)

TKO spans the globe, delivering professional and quality video communications service that is so urgent in today's world.

- John Roensch, CEO
People+Content™ Features
Dual Images (view people and high resolution content simultaneously
Synchronized content ("what you see, they see")
Persistent previews (video thumbnails)
Customizable video source labels
Auto-sensing inputs
Video Input
Main camera: 4-pin mini DIN DB15 (PTZ) - people
Auxiliary: 4-pin mini DIN DB15 (PTZ) - people or content
Video content (document camera, etc.): 4-pin mini DIN - content
PC/laptop direct input (or ImageShare™ II):15-pin
D sub - content VCR (RCA) - content
Audio Input
2 microphone inputs (PowerMic™), daisy-chains up to 8 microphones
Line-level (RCA)
1 PC audio input (3.5 mm)
1 VCR input with ducking (RCA, left and right)
Audio Output
Main audio left and right (RCA)
VCR output (RCA, left and right)
Video Output
Main display/content display: SVGA or XGA (15-pin D sub)
People display: NTSC or PAL (S-video, composite)
VCR output (RCA)
You may also be interested in learning more about:
9000 Codec Quality of Service
IP Precedense (ToS) / DiffServ DHCP (CoS)
Resource Reservation Protocol (RSVP)
Dynamic bandwidth allocation
Proactive network monitoring
Packet and jitter control
NAT support
Asymmetric speed control
Fixed firewall supported
Lip synchronization
Chassis for the 9000 Codec
Pentium III, 256 MB RAM
4 dedicated DSP chips for video conferencing application
Windows 2000 Professional
DVD drive
40 GB hard disk
Ethernet 10/100 interface
2 RS-232, 2 USB ports
PCI slot, full length
Network Interface
IP (LAN, DSL, cable modem), Ethernet 10/100, up to 4 Mbps
ISDN, Quad BRI S/T, up to 512 Kbps
V.35/RS-449 with RS-366 dialing, up to 2 Mbps
Voice-only and voice-add calls over ISDN and IP
Optional wireless IP via USB
Remote Control
Infrared remote control including built-in mouse functionality
iPower 9000 Codec Wireless Keyboard
Infrared wireless keyboard with trackball for point-and-click
functionality and dedicated video conferencing hot keys
Optional iPower 70 Camera
Standard camera pan-tilt-zoom camera
Tilt range: +15°/-30°, Pan range: +/-100°
Horizontal field of view: 66°
Total field of view: 266°
Horizontal resolution: 430 TV lines
Zoom range: 12x
Auto focus/brightness/white balance/iris
Optional PowerCam™ Plus Camera
Silent, motorized pan-tilt-zoom camera, with Limelight automatic camera pointing including "dialog mode"
Tilt range: +2°/-25°, Pan range: +/-100°
Horizontal field of view: 65°
Total field of view: 265°
Horizontal resolution: 460 (PAL) / 470 (NTSC) TV lines
Zoom range: 10x
Auto focus/brightness/white balance/iris
Optional ImageShare II
Laptop/PC connectivity device
15-pin D sub - Video input up to XGA (1024x768 at 60, 70 and 75 Hz)
3.5 mm - Audio stereo input
Optional PowerMic
Smart microphone, which electronically locates the person speaking, anywhere within a full 360° radius (one included, up to eight total)
High-Capacity Multipoint Video Conferencing
Optional local site plus eleven (11) video sites
Same call specifications as below
Optional Internal Multipoint Video Conferencing
Multipoint calling over IP (H.323)
Local site plus three (3) video sites at 768 Kbps each
Full People+Content support
Voice-activated or continuous-presence modes
H.261, H.263, H.263+
G.722, G.723.1, G.711
Simultaneous voice-add over ISDN/IP
T.120 data collaboration
Optional Meeting Tool Assistant
Integrated control of select document cameras, projector and VCR devices
Supported devices
- VCR: JVC SR-S365U or JVC SR-S388E
- Document camera: ELMO EV-2000AF, ELMO EV-2500AF,
Canon RE-350
- Projector: InFocus 350 and 5XX series, Sony PX/CX family
Optional Digital Video Conference Recording
Save entire conference for archiving or transporting
Voice switch and view permanent site selection supported
Content store as JPEGs
Support "On-the-Call" and "Off-the-Call"
People+Content Streaming
View conference with content from any LAN with standard Web browser
Support up to 5 direct viewings (MS Media player v7.0 and above)
Support external Microsoft Media Server for larger participants
Voice switch and view permanent site selection supported
Content capture as JPEGs
Support "On-the-Call" and "Off-the-Call"
Computer Information Sharing of the 9000 Codec
Plug in laptop or PC via ImageShare II
Show iPower™ Desktop - Share applications running on iPower system
Integrated web collaboration -WebOffice™ directly from the iPower system
T.120 data sharing and collaboration
Customizable shortcut for frequently used applications
Enterprise Systems Management
Support for Polycom Global Management System, SNMP and LDAP
9000 Codec System Diagnostics
Built-in ISDN bit-error rate tester (BERT) application
Board diagnostics
Readiness monitoring
Compatible with standard PC diagnostic tools
Display Option for the 9000 Codec
34" XGA monitor for content display
34" NTSC/PAL monitor for people display
High-end roll-about cart with integrated Bose speaker, enclosed storage compartment and power strip
Browser-Based Management
Complete system management via Web browser, including: call control, board diagnostics and usage statistics
iPower Control Protocol
RS-232 serial control
Application interface (Active-X) for Visual Basic, Visual C++ software development
Supports Crestron™ and AMX™ control systems
Electrical
Auto-sensing power supply 110/220 Vac, 50/60 Hz
Languages
User interface, online help, and documentation available in English, Japanese, German, French, Spanish, Portuguese, Italian and Simplified Chinese
Warranty
Software - 90 days telephone support
Hardware - One year parts and labor (return to factory)
About TKO Video Communications
TKO is a worldwide leader in providing reliable, high-quality video communications solutions for business, government, educational and international organizations. Services include video conferencing, video and audio streaming, event managment and satellite broadcasting.