Sony PCS-11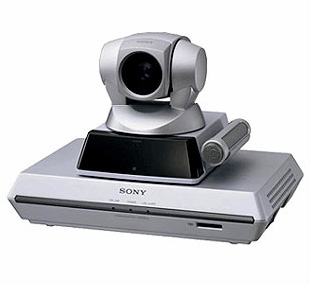 The Sony PCS-11 is based on the same quality audio and video conferencing capabilities as the PCS-1 system. Perfect as a entry level package for new video conferencing users the Sony PCS-11 has been designed for the small-to-medium business markets.
Combining Technology and Style
The PCS-11 has the necessary features for providing video conferencing over IP networks at up to 1 Mbps. The PCS-11 also provides QoS technology to help ensure and enhance video quality over unmanaged networks and has AES encryption as standard feature. With a futuristic stylish two-piece body the PCS-11 is a perfect fit for an organization that is looking for a high quality and cost effective video conferencing equipment.
Equipment Features
Listed below are some of the features, highlights and options that make the PCS-11 a great choice for you organization. They include;
Highlights
Some of the PCS-11 highlights are support dual monitor, two video inputs, Memory Stick™, file sharing, T-120 net meeting, T-120 net meeting, private phone book, AES encryption, QoS - ARC and ARQ, auto call, Second camera support, high quality video H.264, up to 1 Mbps
Excellent Video Quality
The Sony PCS-11 comes equipped with encoding capabilities compliant with the ITU-T H.323 standard for network based video conferencing at up to 1Mbps and 30 frames per second, and provides advanced video-coding capabilities compliant with the new ITU-T H.264 standard.
Optional Accessories
Some of the state-of-the-art optional accessories include an ISDN Interface Box (PCS B384) and for installation flexibility and room design options an elegant camera stand (PCS STP1). Click here to visit the PCS-11 optional accessories page.
Built-In Microphone
The Sony PCS-11 built-in microphone provides superb quality sound making the audio from the video conference sound very natural, clear and crisp.
Memory Stick® Media Support:
Data sharing in a video conference is easier than ever with Memory Stick media support. This outstanding feature allows presentation documents and photos to be displayed in 4CIF format without connecting to a computer. The displayed graphics can even be transferred to remote sites. A private phone book with Auto Call functionality can be created via Memory Stick media (optional).
System Configurations
The Sony PCS-11 comes in the following system configurations. Contact TKO for pricing and further information.
PCS11 - Base model includes camera, codec, microphone with H.323 IP connectivity at 1 Mbps
PCS11/ISDN - Camera, codec and microphone with 384 Kbps ISDN interface
You may also be interested in learning more about:
TKO Video Communications
TKO also provides global satellite broadcasting, event management, video and audio streaming and audio conferencing. In addition, we offer video conference and telecommunications training.