Polycom Executive Collection - Specifications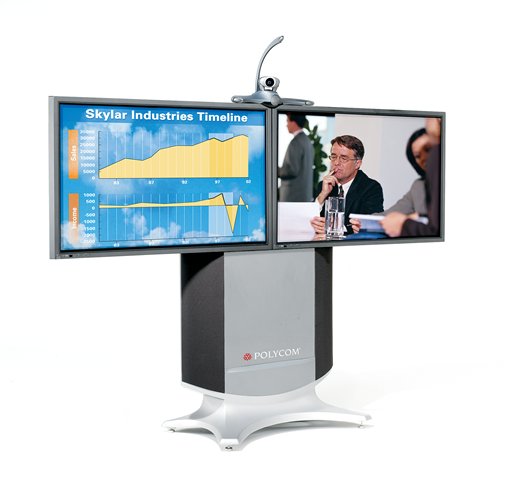 The Polycom Executive Collection include integrated plasma displays, video conferencing system with options (iPower 9800 or ViewStation 4000), camera, audio sound system, microphone, system controls, furniture enclosures and integrated cabling
Executive Collection Models
Single 50-inch floor system
Dual 50-inch wall system
Dual 50-inch floor system
Dual 61-inch wall system
Furniture Enclosure
Wall system furniture enclosure includes credenza which houses the codec and amplifier with space for 4U of additional equipment, as well as speakers integrated with wall mounted plasma displays (including brackets)
Floor system furniture enclosure includes stand which houses the codec and audio sound system
You may also be interested in learning more about:
Video Conferencing System
Choice of Polycom's top of the line iPower 9800 or ViewStation 4000-based video conferencing systems including remote control, video conferencing camera, microphone, tabletop connectivity for laptops or PCs, internal multipoint capability, and more
Highest quality audio capabilities including Integrated Dynamic Echo Cancellation (IDEC), Automatic Gain Control (AGC), Automatic Noise Suppression (ANS), as well as support for the widest range of industry audio algorithms, including 7 kHz with G.722, G.722.1 and 3.4 kHz with G.711, G.728
Fully ITU-T H.320 and H.323 compliant
Full standards support of video algorithms including H.261, H.263, H.263+, H.263++
Versatile set of data collaboration options including T.120 with Microsoft NetMeeting
Content video resolution up to XGA (1024x768) - end-to-end - for high quality PC sharing
People+Content™ features including Dual Images (view people and high-resolution content simultaneously) and synchronized content ("what you see, they see")
Polycom Office features in mixed platform calls including People+Content and Conference On-Demand with Polycom PathNavigator™ (endpoint initiated unscheduled multipoint using the MGC Bridges)
Fully manageable from Polycom's Global Management System™
Internal multipoint capability to join up to four video sites and one audio site
Integrated Audio Sound System
Dual speakers: includes 3/4" silk fabric dome tweeter combined with two 3 1/2" composite midrange drivers for superb sound reproduction at frequency ranges of 100 Hz to 22 kHz
High fidelity audio system delivers 270 watts, with a high efficiency amplifier, subwoofer and two (2) satellite speakers transforming this conferencing solution into a high-performance sound studio for large environments
Subwoofer: 150 watts continuous at 100 Hz, one channel driven at less than .3% total harmonic distortion, with two (2) 6-inch drivers with bass response down to 35 Hz
270-watt (total power) multi-channel B.A.S.H. digital hybrid amplifier (BASH ® is a patented High Efficiency Power Amplifier circuit topology resulting in a successful marriage of efficiency, distortion, bandwidth, EMI, and sound quality)
Polycom Executive Collection Plasma Displays
High resolution (1366 x 768), high contrast, high brightness, 16:9 widescreen aspect ratio format
Single or dual 50" (127 cm) diagonal plasma displays available with floor system
Dual 50" (127 cm) or dual 61" (155 cm) plasma displays available with wall system

From Fiji to Australia to Europe, every global location is mission critical and every equipment and network installation is mission accomplished.

- Dustin Gabbett, Field Engineer
iPower 9800 Configurations -
Chassis
PC chassis based on Pentium III host processor running Windows 2000 Professional, including Ethernet 10/100 interface, DVD drive and two (2) USB ports
PowerMic™
Smart microphone, which electronically locates the person speaking, anywhere within a full 360º radius (one included, up to eight total)
PowerCam™ Plus Camera
Silent, motorized pan-tilt-zoom camera, with Limelight automatic camera pointing including "dialog mode"
ImageShare™ II
Tabletop connectivity device for laptop/PC with video input up to XGA (1024x768) and audio input (3.5 mm)
WirelessTablet Option
Bluetooth wireless tablet interface allowing easy pen-based access to conference controls and ability to annotate on content at the same time
Wireless Keyboard
Infrared wireless keyboard with trackball for point-and-click functionality and dedicated video conferencing hot keys
Remote Control
Infrared remote control including built-in mouse functionality
Audio, Video and Data Capabilities
Data collaboration options including showing any application from the iPower desktop over video
Superior audio quality
14 kHz with Siren14™
Video using H.264* for highest quality video in low bandwidth networks
Pro-Motion interlaced video (H.263 Annex W) at 336 Kbps and above
Multipoint calling over IP (H.323 video conferencing)
Local site plus three (3) video sites at 768 Kbps each
Simultaneous voice-add over ISDN/IP
Voice-activated or continuous presence modes
People+Content features: content up to XGA, synchronized content
T.120 data collaboration
H.261, H.263, H.263+
G.722, G.723.1, G.711
Optional high-capacity multipoint with iPower 9800
Local site plus eleven (11) video sites, same specifications as above
Integrated Streaming
Supports up to 5 direct viewings (MS Media Player V7.0 or higher) or
Supports external Microsoft Media Server for larger numbers of participants
People+Content streaming gives the full experience of the meeting to participants in nonvideo enabled locations
View conference with content from an LAN with standard Web browser
Optional Digital Conference Recording
Allows users to save entire conferences for archiving and later retrieval and replay
Network Interface Options
ISDN, Quad BRI S/T, up to 512 Kbps
V.35/RS-449 with RS-366 dialing, up to 2 Mbps
IP (LAN, DSL, cable modem), Ethernet 10/100, up to 4 Mbps
ViewStation 4000 Configurations -
PowerCam Camera
Silent, motorized pan-tilt-zoom camera, designed especially for video conferencing
Audio, Video and Data Capabilities
Content input options including PC Presents for Microsoft PowerPoint, Polycom SNAP for high resolution graphics capture and Visual Concert DC
Digital Tabletop Microphones
Two (2) digital microphone pod with omni-directional coverage of 360º using 3 hyper-cardiod elements
Remote Control
Handheld, ergonomic remote control
Visual Concert FX
Tabletop device for audio and video input from a PC or Macintosh up to SXGA (1280x1024), video output (projector) up to XGA (1024x768), audio input (3.5 mm), and three (3) inputs for 10/100 Ethernet hub
Embedded MPPlus
Supports mixed combinations for 5 sites (4 IP/ISDN + 1 POTS audio)
Supports IP and POTS telephones
Continuous presence or voice switched
Dial in and dial out of existing calls
Mode to automatically switch between presenter and continuous presence
Mixed cascading up to 14 sites (10 IP/ISDN + 4 POTS audio)
Integrated Streaming
Live video stream multicast to Apple QuickTime, Cisco IP/TV, etc. with controls via web interface
Security
Full set of security features including secure password authentication, unique factory default passwords, dial-in meeting passwords, do not disturb meeting feature, menu screen selectable password protection
Independently verified and tested for secure use in corporate and classified environments
Network interface Options
PRI/T1 or PRI/E1, up to 2 Mbps
V.35/RS-499 with RS-366 dialing up to 2 Mbps
IP (LAN, DSL, cable modem), Ethernet 10/100, up to 2 Mbps
ISDN, Quad BRI S/T, up to 512 Kbps
Dimensions - Executive Collection
Wall System (credenza)
Width: 32"/ 81.28 cm
Depth: 30" / 76.2 cm
Height: 26.75" / 67.95 cm
Floor System (Base footprint)
Width: 37.2" / 94.49 cm
Depth: 23.6" / 59.94 cm
Floor System (Dual 50" mounted plasmas)
Width: 95.3" / 242.1 cm
Height: 63.8" / 162.1 cm
Wall System (Dual 61" mounted plasmas/speakers)
Width: 134" / 340.4 cm
Depth: 6.3" / 16 cm
Wall System (Dual 50" Mounted plasmas/speakers)
Width: 112" / 284.5 cm
Depth: 6.3" / 16 cm
Electrical
Auto-sensing power supply 110/220V AC, 50/60 Hz
115 watts maximum for codec and main camera
530 watts maximum per 50" plasma display
828 watts maximum per 61" plasma display
Languages
User interface, on-line help, and documentation available in English, French, Japanese, German, French, Spanish, Portuguese, Italian and Simplified Chinese
Executive Collection Warranty
Software - 90 days telephone support
Hardware -One year parts and labor (return to factory)
Please note that the Polycom Executive system capabilities vary depending on iPower 9800 or ViewStation 4000 selection, software package and network selection. Additional are specifications available.
TKO Video Communications
TKO provides satellite broadcasting, audio conferencing, streaming video and audio. In addition, we offer telecommunications and video conference training.